Best GRE Test Prep Tutoring in Munich (Germany)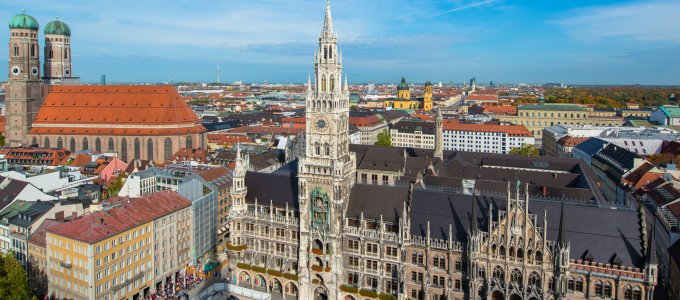 Manhattan Review offers the most effective preparation services for the Graduate Record Examination (GRE) available in Munich. Graduate school applicants in the Munich area can reach their goals of acceptance into respected graduate degree programs with our on-site GRE prep classes, GRE courses in online interactive format, GRE private tutoring, GRE practice tests, and admissions consulting. Manhattan Review has been providing rigorous, reliable, and practical GRE prep to students around the world since 1999, and our teaching has led to thousands of successful learning outcomes. Unlike many test prep companies whose instruction is based on tedious rote learning, Manhattan Review's GRE prep courses and private tutoring plans show our students how to develop a broad understanding of the test through the development of higher-order thinking skills. Our highly credentialed GRE tutors and instructors will show you how to approach the content of each section, how to master test-taking skills that improve performance, and how to use study time in the most efficient possible manner. Learn more about our GRE services in Munich by getting in touch with us right away, either online, by phone, or by email.
Because there is so much variety in how universities use the GRE, assessing optimal scores for a given student can be a challenge. Some programs have required GRE minimums, while others will give only the averages for accepted students. A few departments decline to give any information about the GRE at all, forcing prospective students to rely on secondary sources. The MS program in aerospace engineering at Arizona State University is an example of a degree offering with a specific minimum standard (159 quantitative, 146 verbal, and 4.0 analytical writing). For the MS in computer science at the University of Chicago, the reported averages are 150 verbal and 160 quantitative. The Stanford Graduate School of Education does not release any information on the average GRE scores of its accepted students, but other sources place those numbers at 160 verbal and 167 quantitative. At Manhattan Review, we understand that the learning process must begin with target scores, and we help our students accurately determine their particular requirements.
Manhattan Review's GRE clients regularly get accepted to highly selective graduate degree programs. Our GRE students have studied at Princeton, Stanford, Johns Hopkins, Harvard, the University of Pennsylvania, Duke, the University of Virginia, Oxford, Cambridge, the University of London, the University of Edinburgh, and many more of the best tertiary institutions in the English-speaking world. Successful careers are usually the result of elite education, and thousands of our students have gone on to lucrative and rewarding employment in fields related to the liberal arts and sciences. Our past GRE clients have worked for many of the largest companies in the United States, including Fortune 500 outfits such as Exxon Mobil, Berkshire Hathaway, Ford Motor, and UnitedHealth Group. We're also well represented in the Munich business community, with former students now working for Allianz, BMW, Munich Re, and Tomorrow Focus. You can start building a comparable future right away with Manhattan Review's Munich GRE prep services.
GRE Private Tutoring
Hours package 12 to 48 hours, Personalized 1-on-1 Tutoring, In Person or Live Online
GRE Private Course
12 hours in total, Personalized 1-on-1 Course, In Person or Live Online

I was most impressed with how efficient Vince was with everything, he came prepared and he knew what he was talking about. I liked the efficiency. I already came in with a good idea with what I needed to work on and Vince was great in attacking my weaknesses. I cannot think of anything I disliked or that he could improve about his teaching style.
- Jackson (This student took our GRE Tutoring)
Munich
Primary Course Venue:

Sheraton Munich
Garmischer Strasse 2
80339 Munich
Germany

Phone: +49-89-3803-8856

NOTE: We do NOT typically have staff at the venue, so email us before visiting the venue.
Meet a Munich GRE Tutor: Linus T.
Linus T. holds a bachelor's degree in sociology from Penn State University and a master's degree in sociology from California State University, Sacramento. He has been a GRE tutor since 2011 and has taught GRE prep in Munich since 2015. He also has four years of secondary-level teaching experience at a private high school in the Los Angeles area.
Linus has effectively taught GRE prep in both group and individual settings. Equally adept in teaching GRE quantitative, verbal, and writing skills, his students have consistently produced the GRE scores required for admission to selective public and private universities in the United States and many other countries. In his spare time, he stays in touch with family and friends in his native Concord, New Hampshire.