Best TOEFL Test Prep Courses in Zurich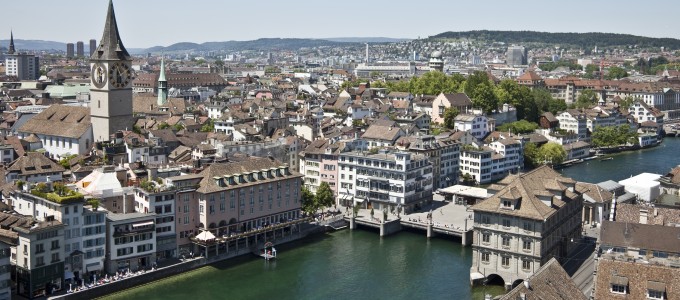 The Test of English as a Foreign Language (TOEFL) is usually mandatory for applicants to universities in English-speaking countries whose first language is not English. Zurich students who are required to take the TOEFL can receive passing scores in the least possible amount of time with Manhattan Review's TOEFL prep classes and private tutoring. We are an experienced provider of standardized test prep services that has been helping students around the world reach their academic goals since 1999. Our clients have been accepted to many of the best universities in the English-speaking world, including Harvard, the University of London, the University of Edinburgh, Oxford, Yale, Princeton, and the University of Melbourne. Manhattan Review has successfully guided thousands of students from numerous linguistic backgrounds and at every level of English-language proficiency to the TOEFL scores required by their chosen undergraduate and graduate degree programs. We are more dedicated to international students than any of our competitors, none of whom can approach our level of experience teaching TOEFL prep to a truly worldwide clientele.
Manhattan Review's TOEFL learning process begins with an assessment of individual TOEFL score requirements. There is no broad TOEFL standard for institutions that require the test; each school (and often each program) has its own TOEFL prerequisites. Some universities and individual programs are more specific than others with respect to "passing" TOEFL scores. Applicants to Columbia University, for example, must produce a composite score of 100 regardless of program or degree level, but graduate applicants to Cornell University are required to have scores of at least 15 listening, 20 reading, 22 speaking, and 20 writing. Most foreign students who wish to study at Carnegie Mellon University need a TOEFL score of 100 or above, but an 84 is acceptable for the degree programs in electrical and computer engineering and civil and environmental engineering. These examples clearly demonstrate that it is difficult to make general statements about TOEFL requirements; they are entirely dependent on individual student goals. Manhattan Review's TOEFL prep classes and private tutoring are designed to accommodate whatever score levels a given student needs.
Manhattan Review's TOEFL clients have pursued and completed degrees that have led to success in a wide variety of professions. Some of these students have been hired by top companies in the United States and Europe, including Fortune 500 firms and Zurich businesses such as Hartford Financial Services Group, General Mills, United States Steel, ABB Group, Credit Suisse, and Migros. Others have gone to work in the public sector, as civil servants, educators at all levels, and political appointees. Manhattan Review's TOEFL prep courses and private tutoring have helped numerous international students get started on the elite education in their chosen fields that is a prerequisite to professional accomplishment. Contact us today for more information on how we can help you begin a life of academic and professional achievement.
TOEFL In-Person Classic
28 hours in total, Class Course, In-Person
Start: Sep 30, 2023

End: Nov 18, 2023

2 days left to start

Saturdays

12:00 PM - 03:30 PM

(Local Time)
Start: Oct 15, 2023

End: Dec 03, 2023

17 days left to start

Sundays

03:00 PM - 06:30 PM

(Local Time)

$1,590.00

$1,490.00

Early Booker
Start: Oct 28, 2023

End: Dec 16, 2023

30 days left to start

Saturdays

12:00 PM - 03:30 PM

(Local Time)

$1,590.00

$1,490.00

Early Booker
Start: Nov 12, 2023

End: Dec 31, 2023

45 days left to start

Sundays

03:00 PM - 06:30 PM

(Local Time)

$1,590.00

$1,490.00

Early Booker
TOEFL Private Course
12 hours in total, Personalized 1-on-1 Course, In Person or Live Online
TOEFL Practice Tests
TOEFL Practice Tests

Great Course! The structure and framework for negotiating will be helpful going forward.
- Greg (This student took our Negotiation and Decision Making Seminar.)
Zurich
Primary Course Venue:

Rohrhaldenstrasse 45
Zürich 8712, Schweiz

Phone: +41-(0)43-508-0991

NOTE: We do NOT typically have staff at the venue, so email us before visiting the venue.
Meet a Zuerich TOEFL Tutor: Akim L.
Akim L. was born and raised in Harare, Zimbabwe. His post-secondary education was completed in the United States, and he is a graduate of the University of North Carolina – Chapel Hill and of Michigan State University, with bachelor's and master's degrees in computer science. He scored a 118 on the TOEFL as part of his undergraduate application, and has been working as a TOEFL tutor since his freshman year of college in 2003.
Akim has lived in Zurich since 2010, and in addition to his tutoring duties, he is a software designer for a Zurich startup. He has taught TOEFL prep to students from over 40 countries since the beginning of his career, and many of these students have graduated from Ivy League schools, top public universities in the United States, and prominent tertiary institutions in Europe. Akim also has a variety of hobbies, including table tennis, modern world literature, and curling.
As Seen In