Best TOEFL Test Prep Tutoring in Munich (Germany)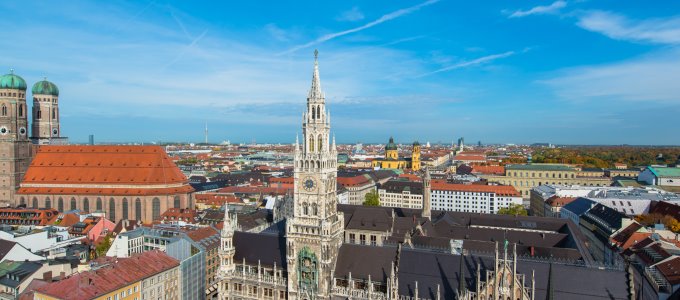 The Test of English as a Foreign Language (TOEFL) is required of most international applicants to universities in the United States, Canada, United Kingdom, Australia, and many other countries. Successful completion of this assessment demands baseline skills in reading, writing, speaking, and understanding the English language, particularly in academic settings. Manhattan Review is an international test prep company that provides Munich students with all of the services necessary for passing TOEFL scores. We offer brick-and-mortar TOEFL prep classes, group TOEFL instruction in online interactive format, TOEFL private tutoring, and TOEFL practice tests, all of which have been validated by thousands of successful student learning outcomes. Manhattan Review has been an industry leader in test prep for international students since we offered our first courses in 1999. Our private tutoring plans are customized to the needs of the individual student, taking academic background, specific TOEFL requirements, TOEFL strengths and weaknesses, and preferred learning style into account.
Manhattan Review's private TOEFL tutoring clients receive instruction that can precisely target any set of TOEFL standards, which are determined by individual universities at the school and departmental levels. Minimum composite TOEFL scores can fall anywhere between 60 and 110, and can also include mandates for each of the four subscores. TOEFL standards can be affected by factors such as institutional prestige, degree level, and the language skills most essential to studying a given academic subject. Additionally, teaching assistantships often have higher expectations in one or more of the TOEFL areas. Princeton University has one of the most difficult TOEFL standards; all international students must produce a composite TOEFL score of 108 along with a nearly perfect 28 speaking subscore. The opposite extreme is represented by Oregon State University, which will grant provisional admission to students scoring as low as 60. The median TOEFL requirement at all universities in the United States is approximately 80, but the majority of selective universities require a 90 or more. Manhattan Review's TOEFL tutors design their teaching to meet whatever TOEFL requirements apply to an individual student.
Manhattan Review's TOEFL students have secured admission to undergraduate and graduate degree programs at the world's top universities. A brief list of these institutions includes Princeton, Harvard, Yale, UC Berkeley, MIT, Dartmouth, Georgetown, Johns Hopkins, Oxford, Cambridge, the University of Edinburgh, Australian National University, and the University of Cape Town. Fortune 500 companies, including Exxon Mobil, Berkshire Hathaway, Bank of America, and Enterprise Products Partners, have competed to hire our past students upon completion of their degrees, and we also have former clients now employed by Munich firms such as Bergverlag Rother, BVT, Pilotfish, and Süddeustcher Verlag. The cost of Manhattan Review's TOEFL prep services in Munich is a small price to pay for the lifetime of success that comes from a high-quality post-secondary education. Contact us today for all of the relevant details on our Munich TOEFL offerings or for answers to any questions you may have.
TOEFL Private Tutoring
Hours package 12 to 48 hours, Personalized 1-on-1 Tutoring, In Person or Live Online
TOEFL Private Course
12 hours in total, Personalized 1-on-1 Course, In Person or Live Online

The instructor is patient in his explanation, and he knows the topics really well.
- Chew (This student took our Columbia Business School Communication and Culture boot camp.)
Munich
Primary Course Venue:

Sheraton Munich
Garmischer Strasse 2
80339 Munich
Germany

Phone: +49-89-3803-8856

NOTE: We do NOT typically have staff at the venue, so email us before visiting the venue.
Meet a Munich TOEFL Tutor: Nadine Y.
Nadine Y. is a native of the Serbian capital of Belgrade. She holds a bachelor's degree in chemistry from the University of California, San Diego and a master's degree in chemical engineering from the University of Southern California. She has been teaching TOEFL prep courses and private tutoring sessions for Manhattan Review in Los Angeles and Munich since 2011.
Nadine's specialty as a TOEFL tutor is teaching students who intend to pursue graduate degrees in the sciences. "Most of my students know their subjects well, but find it challenging to articulate their ideas in English, whether in written or spoken form," she says. "I help them understand that what they must do to pass the TOEFL is actually much easier than what they have already accomplished."
As Seen In