Best GMAT Test Prep Courses in Munich (Germany)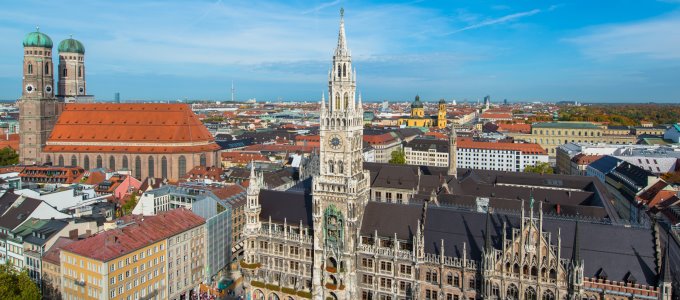 Manhattan Review is a test prep company that has been helping produce qualified graduate business students since 1999. We offer all of the necessary Graduate Management Admission Test (GMAT) services for business school applicants in Munich, and all on-site options meet at convenient locations around the city. Local students can choose traditional GMAT prep courses, online interactive GMAT classroom instruction, or one-on-one GMAT tutoring, and can also benefit from our GMAT practice tests and MBA admissions consulting. We employ the most qualified GMAT educators available in Munich, who combine real-world business experience with top-notch teaching credentials to maximize student success. Manhattan Review is known throughout the industry for its original approaches to GMAT teaching, which focuses on the acquisition of broad thinking skills rather than the minutiae of the test. Our students acquire the most relevant GMAT content knowledge, learn how to take the test strategically, and understand how to make the most of their study time, which produces the best possible results in the shortest possible time frame.
Although the GMAT has always been an important factor in business school admissions decisions, there is strong evidence that the GMAT has become even more significant in recent years. Institutions rarely disclose details about their admission process, but a recent survey of admissions consultants found that the GMAT may now count for as much as 25% of the application (with the total score and the quantitative score being the most strongly considered numbers). This makes the GMAT more than twice as important as undergraduate GPA. Although many students may find this situation shocking, it does make some degree of sense. With extreme variety in the undergraduate curricula of business school applicants, undergraduate grades can be a less-than-reliable means of comparing prospective students. The GMAT eliminates variables in undergraduate subject matter, course difficulty, and institutional rigor by evaluating everyone according to the same criteria. Business school applicants must therefore do everything they can to ensure that they excel on the GMAT, which can be mastered with professional instruction and sufficient student effort.
Manhattan Review's GMAT prep courses and private tutoring have taught countless students how to receive the GMAT scores needed for acceptance to world-class institutions such as Harvard Business School, the Stanford Graduate School of Business, London Business School, Northwestern University's Kellogg School of Management, the Fuqua School of Business at Duke University, the University of Pennsylvania's Wharton School, and MIT's Sloan School of Management. Many of our past GMAT clients have graduated from these fine business schools and been hired by Fortune 500 companies such as Cardinal Health, Citigroup, United Technologies, and Dow Chemical. We also have former students now working for Munich's top companies, including Siemens AG, Munich Re, ADVA Optical Networking, and Roland Berger. Graduates of the best business schools are highly valued in the job market. Manhattan Review's GMAT prep courses and private tutoring in Munich will help get you started on an enviable future business career.

You asked that I send you my GMAT score, so here you go: 680 (unofficial). I'm pleased and relieved. Thanks for your help.
- Dave (This student took our New York GMAT weekend course)
Munich
Primary Course Venue:

Sheraton Munich
Garmischer Strasse 2
80339 Munich
Germany

Phone: +49-89-3803-8856

NOTE: We do NOT typically have staff at the venue, so email us before visiting the venue.
Meet a Munich GMAT Tutor: Heidi P.
Heidi P. is a graduate of New York University and Columbia Business School. Originally from Nuremberg, she was a part-time GMAT tutor in New York City for five years before returning to Bavaria in 2012, and she was also a graduate teaching assistant at Columbia. Investment banking is her full-time occupation, and she has worked for large banks both in New York and in Munich.
Heidi's GMAT students have been accepted to the business schools at Cornell, Dartmouth, Columbia, the University of Michigan, Georgetown, and many other highly selective graduate business programs. Most of her GMAT teaching experience is with one-on-one tutoring, but she has also successfully taught group GMAT classes. Her hobbies include skydiving, swimming, and parasailing, and she will frequently invite her students to join her in these activities.